Golden Globe Awards: Best and Worst dressed!
9:36 AM
Yesterday were the Golden Globes and the fashion was absolutely amazing! I was very impressed because there were very few dresses I didn't like. I liked most of them, it was a really glamorous red carpet, can't wait to see Fashion Police to know what they thought.

There were a few trends very present, such as the sleek hair, dresses longer on the back than in the front, black and white, lots of red, etc.

Let's start with the best dressed.

#1 Emilia Clarke in Proenza Schouler


This was with no doubt my very favorite dress! As soon as I saw her come down the Red Carpet, I knew she was going to be the best. I loved how the dress fit her, the cut, the color, everything. Her hair was very nice and pretty, didn't take the attention off of the dress. She looked amazing!
#2 Lupita Nyong'o in Ralph Lauren
What can I say? She nailed it! She looked beautiful, the dress was amazing. I loved the cape, the color, everything. I have no words to drescribe how perfect this was.
#3 Olivia Wilde in Gucci
This is how a pregnant lady should look on the red carpet. The color and sequins were just perfect. She looked gorgeous!
#4 Kate Beckinsale in Zuhair Murad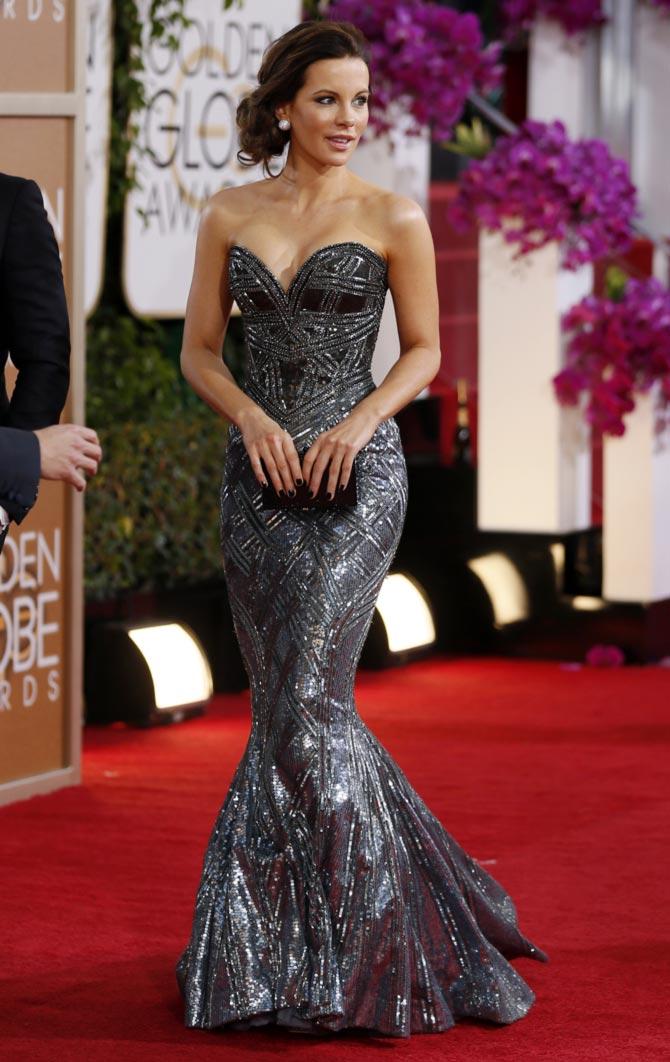 This one was also perfection. I'm normally not such a big fan of this designer but I think this dress might be my favorite Zuhair Murad, after the one Blake Lively used in the Savages premiere.
#5 Amber Heard in Versace
The dress was really pretty, but I think that what caught my eye was the styling...The updo was incredible! Loved it!
I also have a
best dressed men list
, I thought some of them really put an effort on their outfit and looked so so handsome.
#1 Matthew McConaughey in Dolce & Gabbana
I loved how he took a risk by wearing that color and in velvet! He looked amazing!
#2 Jared Leto in Saint Laurent
It was great that he put his hair in a ponytail and the scarf he wore was perfection. He really cleans up well!
#3 Leonardo DiCaprio in Armani
Well he always looks gorgeous and this classic tux was no exception.
Now, for the
worst dressed
… It was kind of a challenge because, as I said, I liked almost every single look! But there were a few that did mess it up a little…
#5 Sandra Bullock in Prabal Gurung
I thought she looked beautiful from the neck up. Her hair and makeup were gorgeous, but that dress…I did not like the color blocking at all.
#4 Emma Stone in Chanel
This was so boring compared to what she usually wears. It had no shape whatsoever, and did nothing for her figure. I don't know what happened with her.
#3 Zoe Saldana in Prabal Gurung
Seriously, what more could you add to this dress? It has too much going on! I know Zoe likes to take risks and everything, but she went too far this time. I think this dress is far from looking chic, I think it even looks tacky. It was too much for me to handle.
#2 Drew Barrymore in Monique Lhuillier
I gave her a pass in the People's Choice Awards, but c'mon, what was this? I think she is in desperate need of a better stylist, since the one she has, has absolutely no clue of how to dress a pregnant woman. She doesn't even look like she's pregnant, she looks like she's really overweight. I don't like this, not even a bit.
#1 Paula Patton in Stephane Rolland Couture
I saw this dress on the runway, I didn't like it, but I never thought it could look this bad. It's too tight on her and the ruffles are just too much. I saw her waist up on the carpet and I didn't see her complete dress until she got up to the stage to present an award. I never thought she could look that bad. It just didn't fit her properly, it was a size too small for her.
Who do you think were the best and worst dressed? Do you agree with my choices?
Don't forget to enter the GIVEWAY for Dresslily.com
here
.